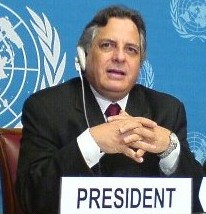 Several countries are waiting for the creation of the Council before showing their cards. Does this last Commission risk being devoid of substance?
There is a risk. But we are going to do everything to insure that there is no vacuum in the protection of the victims. In fact, we must envision the current Commission in light of the future Council. Two scenarios are possible, and, in both cases, the role of the Commission remains essential: either the creation of the Council is announced this week, and this session must then assure a smooth transition; or the member states don't manage to agree, and the Commission pursues its regular mandate.
Certain countries hope to be able to "wipe away" embarrassing cases from the agenda of the future Council.
If there is a transition, the mandate of the Commission will change, no matter what. And the protection of human rights will then be carried out by the Council and no longer by the Commission.
What guarantee do you have that that the accomplishments of the Commission - the work of the special rapporteurs, the investigations - will be carried over to the Council without anything "getting lost along the way"?
The guarantee is to be found within the proposal itself for a Human Rights Council. It is clearly mentioned that all the mechanisms, procedures, mandates, of the Commission will be transferred to the Council.
Can you also guarantee that the complaints already filed by an individual or a group of individuals against a member state will be dealt with? Three countries, including Iran, are targeted.
I can assure you that all the all the cases that are in order will be dealt with by the Council. This procedure has been provided for in the draft resolution on its creation.
Will countries denounced by the Commission be able to sit on the Council?
If a country is denounced by the Commission in the spirit of protecting the universal rights of the victims, as well as in keeping with the principles of non-selectiveness and non-discrimination, the decision cannot but be valid...