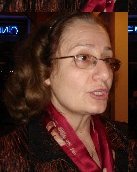 "I was in this village where everyone was screaming, wailing and trying to flee. There were dead bodies all around us, but no journalists, no cameramen to record what was happening. I was there all alone. By chance I had a small video camera with me so I filmed what I could. I don't know why I did it. It was as if I was my soul was crying out for me to do something"
In the poignant film, Coco, the Chechen Dove, the Swiss director, Eric Bergkraut follows Zainab and her colleagues as they collect hundreds of videos of the atrocities in Chechnya.
The videos are hidden away from prying eyes, passed from safe house to safe house in black plastic bin liners before they are then smuggled abroad. They research, document and classify thousands of names, photos and recordings of the victims. "Like that, everything will be ready for the international tribunal", she explains.
One day certainly...
It is this hope that one day the atrocities of this forgotten war will be recognised, that drives these women to risk their lives. When? They don't know.
"One day certainly", says Zainap, who is in Geneva for the screening of the film. However, as the victims of this war have not been given any cause for hope from the Council of Europe, how can they hope that their case is brought before an international tribunal? "One day the world will recognise these crimes that have been ignored for so long", she insists. "It is impossible that they won' be!" If I was not convinced,I would not be doing all this."
In fact, Zainap and her NGO, "Echo of War" are taking part in a new fight for human rights — gathering evidence of crimes as they happen. "There have been such initiatives in the past", explains Eric Sottas, Director of the World Organisation against Torture, "During the dictatorship in Argentina, the mothers of the disappeared collected blood samples in order to be able to find their children again".
Universal competence, a new development
But since the creation of the International Tribunals for the former Yugoslavia and Rwanda and the introduction of the principle of universal competence (which led to the arrest of Augusto Pinochet,) there has been a new development," he added.
"The victims have the hope that if nothing happens today, at least these crimes will be condemned tomorrow," he concludes.
Last year in Goma in the Great Lakes region, small organisations came together to ask for training on documenting human rights abuses. Human rights defenders around the world have understood that gathering evidence professionally is key to getting their cause heard in national and international courts.